We're all about Bristol, its many communities and offering walking activities across these communities to support people's physical and mental health. We specialise in Nordic walking and offer tasters, regular classes, workshops and community Nordic walking programmes bringing people together, having fun, improving wellbeing, and exploring the local area. There are now at least 45 religions, 187 countries of birth and 91 different languages spoken in our beautiful city. So much is already being done by so many people and organisations to support all Bristol's citizens. We want to contribute our skills to support the amazing work that's already happening promoting health and wellbeing for all.
Through our community Nordic walking programmes we aim to encourage more people, particularly those from African, Caribbean, South Asian and other communities that are minority ethnic in England, to improve their mental and physical health and feel a sense of belonging in Bristol's parks and other green spaces.
We also offer low-cost regular Nordic walking classes and beginners' workshops plus free tasters so you can find out more about Nordic walking, its benefits, and how it might work for you. If you're interested in a Nordic walking taster for your group or community please contact us and we'll try and sort one out.
Subitha Baghirathan​
Programme director I am passionate about improving the health of visibly minority ethnic people in Bristol through Physical Activities, and sharing my own ongoing learning. The happiest parts of my week: teaching Nordic Walking in local parks and getting to know all the students.  I also feel proud to be a published author and poet.
Vicky Welsh
Nordic walking national trainer I have been teaching Nordic walking for over 12 years and I love sharing this easy, sociable outdoor exercise with others. Getting out into the fresh air together and learning a new skill is fun and fulfilling and almost every Nordic walker I've taught has said how much healthier in mind and body they've felt afterwards. I've even been inspired to write a book, Let's Walk Nordic, which is a guide to help people get started Nordic walking and use it for their health and fitness needs.
Sunita Sunnak
Nordic walking instructor I have walked regularly throughout my life. However, last year, brought a totally new dimension to me - learning the new skill of Nordic Walking.  Nordic Walking encourages time outdoors, it's fun and improves overall health and fitness. My mantra is to empower all people, particularly from visibly minority ethnic groups, to learn this activity and- like me- feel all its health and emotional benefits.
Henrietta Fung
Nordic walking instructor Having been a non-exerciser throughout my life, I stumbled upon Nordic walking by chance and I've surprised my circle of friends with the amazing health benefits I've gained. Maybe it's time you come and experience it with the Let's Walk Bristol team?
Lucille Smith
Nordic walking instructor I enjoy being outdoors and in nature and with Nordic walking I have felt the benefits for my fitness and stress levels. Becoming a Nordic walking instructor means that I can help others strengthen their body, release tension and feel great through Nordic walking.
Michael Earle
Nordic walking instructor I'm a mental health practitioner and have my own wellbeing consultancy. I really got into walking at the start of the first Covid-19 lock down. Becoming a Nordic walking instructor is a fantastic way of helping people improve their overall wellbeing.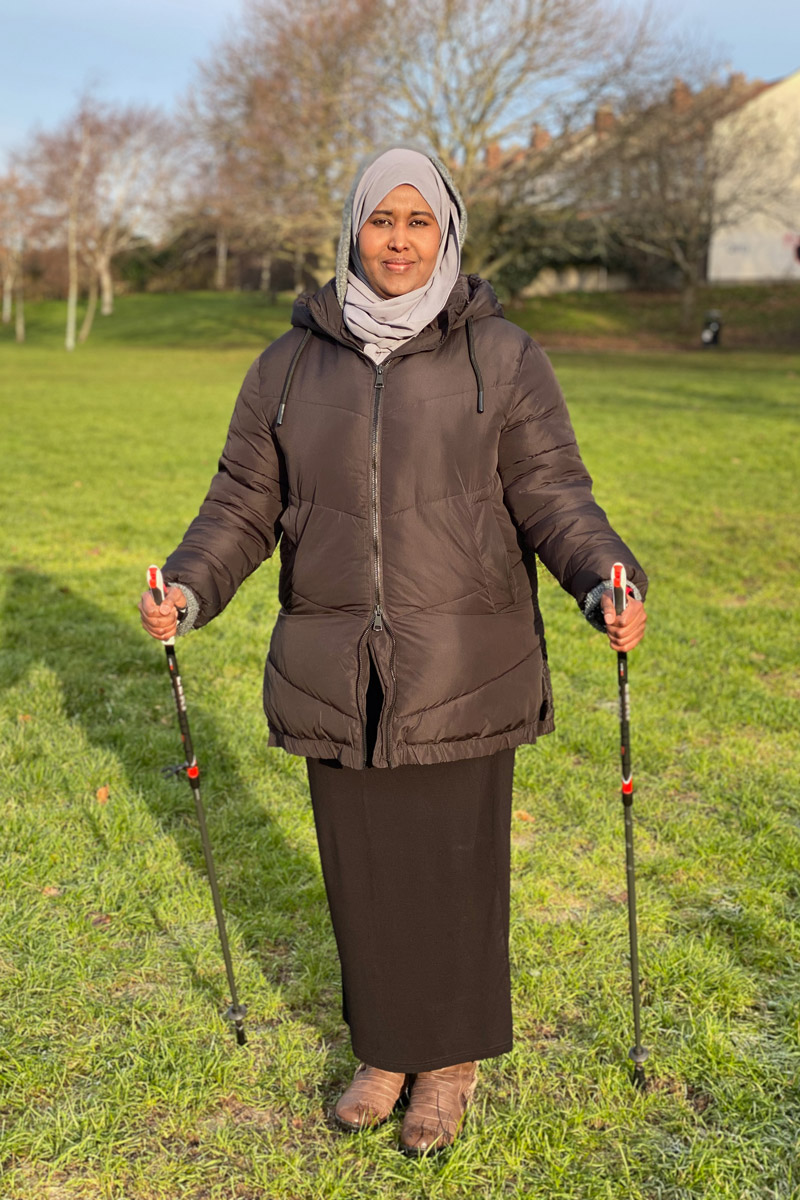 Samira Musse
Nordic walking instructor I don't like gyms and Nordic walking is the perfect way for me to keep fit and improve my strength in a fun way, in a group and outdoors. And it is low cost. I want to empower women who don't do a lot of movement to come out, make friends, and reduce isolation. It's a non-judgemental way to exercise.
Shamso Yussuf Mohamed
Nordic walking instructorI love walking and I enjoy going out in nature. It makes me feel relaxed, different, and happier. With Nordic walking it's like a whole body walk in nature and I can feel the physical benefits everywhere, especially in my arms. I want to show others this fun way of exercising in a group using our local parks and green spaces.
Fred Miller
Nordic walk leader I used to get out bed, creaking. After 3 months of regular Nordic Walking I'm now jumping out bed, and my sleep is no longer pain-interrupted. The difference Nordic walking has made to my health and general wellbeing is huge and I want to share this with others and help them on their health journeys.