It's hard to imagine that this time last year Nordic walking in Eastville Park didn't exist. Now there are 3 weekly Nordic walking classes there, plus Let's Walk Bristol – now a team of 8 Nordic walking instructors – will shortly be starting classes in Netham Park, St George's Park and Page Park, South Glos. All our classes are either free or low cost thanks to external funding. Our instructor team represent the diversity of Bristol's population (click on our 'About' page to find out more) and between us we speak Hindi, Urdu, Punjabi, Mandarin, Cantonese, Somali, French, German and of course English.
After the session it was the first time I slept so well (deep sleep) and I felt so good in myself.
How did this happen?
Back in August 2021 Subitha and Vicky met online at a healthier with nature, green social prescribing networking event. Two strangers meeting, one common goal: to encourage more people, particularly those from African, Caribbean, South Asian communities and other people who are visibly minority ethnic, to improve their mental and physical health and feel a sense of belonging in Bristol's parks and other green spaces.
Nordic walking was to be the pathway. Why? Because Nordic walking is an easy outdoors exercise that's sociable, fun, and incredibly effective in improving health, fitness and wellbeing. The simple addition of two poles and a special technique transforms an ordinary walk into a whole body walking pilates experience. Posture and balance improve, so do strength and fitness. Nordic walking burns between 20 and 46% more calories than regular walking even at the same speed, so weight loss is possible too. The mental health benefits are also immense – learning a new skill; being outdoors; exercising with others; walking side by side with them on their wellbeing journeys; being a valued member of a group; and spending time each class to connect with nature not just walk through it. Last but not least Nordic walking is new to almost everyone. A level playing field where no-one has an advantage over the other, and suitable for all fitness levels.
I didn't expect to have so much fun. In the days after, I felt very good and relaxed mentally and really felt the positivity of Nature in my soul.
What we achieved in 2022
Thanks to funding from Sport England and Age UK Bristol we were able to establish our Nordic walking instructor team. Vicky is one of England's most experienced Nordic walking instructors and a National Trainer for INWA (the International Nordic Walking Federation), but Subitha and our other team members were new to Nordic walking. They spent the first few months of 2022 learning and improving their Nordic walking and training to be Nordic walking instructors.
Nordic walking instructors: Lucille, Subitha, Henrietta, and Sunita
With our new talented, motivated team, we began spreading the Nordic walking word. Subitha has extensive links with many community and voluntary organisations and social prescribing teams and thanks to her efforts and those of the rest of the team, in the coldest months of the year we encouraged people to come out and try this new activity. Our biggest ever group was 26 on 15th January. In total we ran 22 tasters during 2022, with 160 people attending.
22 tasters in 2022, 7 courses and 252 people experiencing Nordic walking
In April our Nordic walking wellbeing classes began. 92 participants signed up for our 7 courses. 70% were people from culturally diverse communities and 18 different ethnicities were represented in our groups. Here are some of the things people had to say:
V S-F: 'I loved this Nordic walking! Lovely group and teachers are so lovely and amazing! My posture is better and back improved! Thank you.'
MS: 'Eastville Park beautiful. Loved Nordic walking here. Much more aware of posture, tum and feet.'
RB: 'It has been wonderful meeting new people, feeling more in touch with nature and my own wellbeing. Wonderful teachers brilliantly supportive and adaptive to our ages and abilities. Obviously they enjoy teaching and promoting wellbeing.'
JM C-N: 'It's a nice feeling of inclusivity and friendliness. Great exercise – improves my fitness. Doesn't cost anything. Easy to continue with – can take sticks anywhere! Brings me closer to nature so calming and lots of vitamin D from the sun.'
JS: 'Meeting different people, enjoying local community. Getting different health information.'
JC: 'I enjoyed meeting new people. Having exercise to do on a Friday. Really enjoyed a different type of walking where I am thinking about posture.'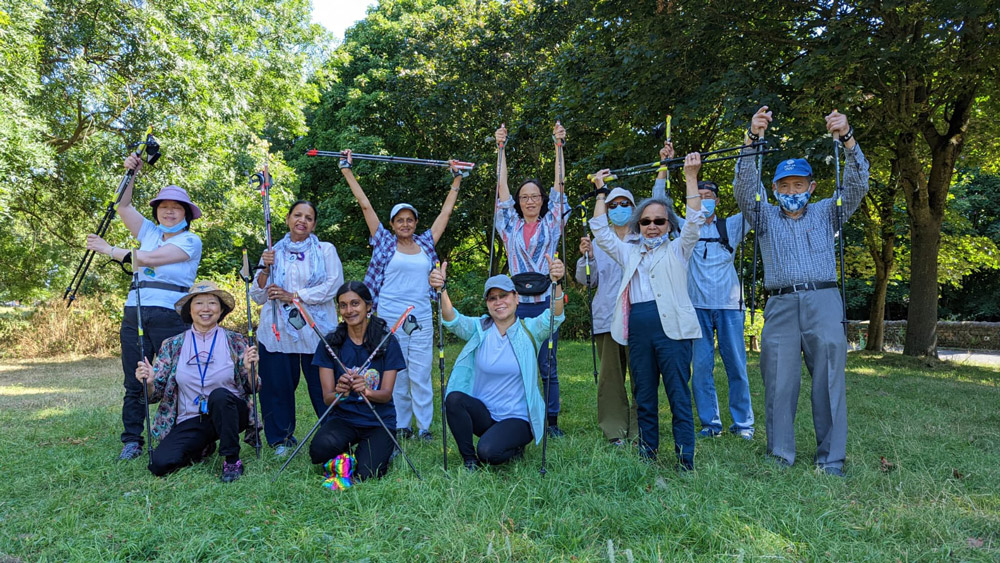 Yes, without exception, the Instructor team are committed to supporting people with improving their wellbeing. They show kindness and care to people and appreciate any sharing of experience. No one is left out, the sense of inclusion was immense and the team are so encouraging, I am grateful to have been allowed to do the course.
Our plans for 2023
Getting public sector funding to run any programme is a stressful experience. Grants are awarded on an annual basis and there is no guarantee that a programme will continue to receive funding even if it's successful. Dozens of hours are spent writing applications, all with the knowledge that people's health and wellbeing are dependent on success. (If you are reading this and have corporate or other funds you are able to contribute to support the continuation of our programme we would be so grateful for your help).
Thanks to the success of our 2022 programme and the positive impact it had on so many people, we have been able to secure more funding to continue and expand our Nordic walking courses. All of them have a nature connection focus. Our St George's Park courses are especially for people aged 70+ and our Netham Park courses are for people with diabetes, particularly trying to make a difference in Bristol's Somali community (see our blog on why Nordic walking is so good for diabetes wellbeing). It is why two of our new instructors are Somali.
Our new Nordic walking instructors: Michael, Samira, and Shamso
All our courses are free, funded through grants from Sport England, Green Social Prescribing, Diabetes Improvement Grant scheme, and a local Bristol charity The Grateful Society.
Our 2023 Courses Timetable
Location
Course Title
Day/Time
Course dates 2023
Priority given to
Eastville Park
Nordic walking healthier with nature
Wednesdays and Fridays 10-11am
Week commencing: Course 1: 27 March – 22 May Course 2: 5 June – 24 July Course 3: 4 Sept – 23 Oct
People who are visibly minority ethnic and who live in central/east Bristol
Netham Park
Nordic walking diabetes wellbeing
Thursdays 9:30-10:30am Nordic walking plus social after
Course 1: 20 April – 25 MayCourse 2: 8 June – 13 July
People with pre-diabetes or type 2 diabetes, are visibly minority ethnic and who live in central/east Bristol
St George Park
Nordic walking wellbeing for older adults
Tuesdays 10-11am Nordic walking plus social after at the Beehive Centre
Course 1: 28 March – 23 May Course 2: 6 June – 25 July Course 3: 12 Sept – 31 Oct
People aged 70+
Page Park
Nordic walking healthier with nature
Mondays 10-11am
Course 1: 27 March – 22 May Course 2: 5 June – 24 July Course 3: 4 Sept – 23 Oct
People who are visibly minority ethnic or on low incomes and who live in South Gloucestershire
We are also running low cost regular Nordic walking classes for our course graduates so that they can continue to Nordic walk and support their wellbeing. Awareness is rising around Nordic walking and its benefits and our instructors have started other classes too – Henrietta runs one for Chinese elders and Sunita and Lucille have begun a Nordic walking group in Blaise Castle Estate.
Chinese Elders Nordic walking group
This is an exciting time. We have increased our instructor team from five to eight. We have increased our course offerings from two locations to five. We have started regular weekly classes in Eastville Park for our course graduates and we will be training walk leaders to support ongoing Nordic walking groups. Getting to this stage has taken many hours of work, but we have seen the changes that can happen and the difference Nordic walking can make to people's lives. It seems appropriate to finish with comments from two of our course graduates who continue to Nordic walk with us. Two lives improved thanks to Nordic walking.
CG appointment with diabetic nurse last week. Blood glucose levels have come down and he's now been taken off the medication he was taking for Type 2 Diabetes.
JM has been able to almost halve his pain medication for arthritis since starting regular Nordic Walking with us in January 2023.
The Let's Walk Bristol Team